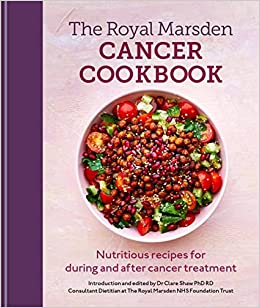 The Royal Marsden Cancer Cookbook 2023
£20.00
Fully updated and revised, The Royal Marsden Cancer Cookbook explores the foods that will support and nourish you during this time and offers more than 150 delicious, healthy recipes. Divided into 'During Treatment' (dishes with more energy and in a form that is easier to eat) and 'After Treatment' (healthy options that encourage a balanced diet). There are also inspirational ideas, recipe variations and tips. All the recipes have been reviewed and analysed by Dr Clare Shaw PhD RD, who worked as a Consultant Dietician at The Royal Marsden for many years, a world-leading cancer centre specialising in diagnosis, treatment, care, education and research.
The book is divided into three: a detailed section by Clare on diet and cancer and the problems you may face during treatment (such as loss of appetite, nausea, sore mouth and change of taste); recipes to cook during treatment, which are nutritionally beneficial and wholesome enough to keep you strong even when you can't eat too much.  Finally a section of recipes for after treatment aimed at keeping you healthy.
All the recipes are designed for the whole family - as well as friends - to share, so you don't have to cook individual meals, easing stress and saving you time and money. Positive, healthy eating is acknowledged to be invaluable in helping people to remain physically and mentally strong.
The Royal Marsden Cancer Cookbook aims to make cooking easy and enjoyable, as well as providing helpful advice and support.
Hardback - publication date 23/02/2023